Spotted Pony Register
The Register is divided into 6 sections according to parentage.  Details of the Spotted Horse Register can be found on this page too.
Register
Below are details of the 6 sections.
Passports: From 1st January 1998 registerable foals must be issued with a passport. Ponies are placed on the appropiate register from the below list. Following the introduction of compulsory passports for all horses/ponies in 2005 new European Union (EU) Regulations, which came into effect on 1st July 2009, mean that all foals born must now be microchipped before an owner can apply for an equine passport.

Main Register
This is for spotted ponies who have two parents and four grandparents registered with the BSpPS or in a place of one parent and two grandparents have an allowable British Native breed or riding pony outcross.

Provisional
This is for spotted ponies that have less than the required criteria for the Full Register and is essentially a register for grading up.

Solid Colour
This is for ponies of known spotted breeding who are solid colour; they are placed according to their pedigree onto either the Provisional or the Full Solid Colour Register. Ponies who later 'spot out' are transferred onto the appropiate spotted register.

Part Bred
This is for ponies that have one parent registered with the BSpPS and the other parent a registered but non allowable outcross. Ponies have to grade up from this register by crossing with BSpPS stock to achieve 87.5% British Spotted Pony blood.

International
This is for imported ponies and those bred from imported stock, this too is a grading up register and ponies are crossed with BSpPS stock to achieve 87.5% BSpPS blood.

Supplementary Appendix
This is a list of spotted ponies or ponies of spotted breeding, who do not qualify for entry onto one of the above Registers.
Please Note: Piebald and Skewbald markings of any kind are not eligible for registration. Also breeding to greys is highly discouraged as this dilutes the colour and can introduce the greying (fading) gene. A fader foal could be born beautifully covered in spots but over time and years the spots start to fade until you are left with a grey. Highly dissapointing for anyone who is not aware of this.
Spotted Horse Register
Spotted Horse Register
Register and Passports
The spotted Horse & Pony Society (SHAPS) had it's right's removed in May 2008. All SHAPS passports remain valid, but we now maintain those passports by doing transfers, upgrades and stallion licenses.
Many passports and passport applications have been lost. We have been issuing replacement passports for these animals. We have been given limited access to the SHAPS data from the National Equine Database (NED) so that we can find UELN'S (Unique Equine Life Numbers).
We have created a new register for horses; this is the Spotted Sport Horse Register (SSHR). Horses are subdivided into male, female, stallion, gelding, and solid colour. These passports have dark green covers. Ponies with known breeding, by licensed stallions, can be accomodated on our provisional register and can grade up in the usual way.
Ponies and horses who do not qualify for registration will be listed on our Supplementary Appendix. These passports now have dark blue covers.
We also inherited an Appiano Register and have created a pintaloosa register for these animals; this is another Supplementary Appendix, these animals are not registered as British Spotted Ponies. Any skewbald or piebald/spotted crosses will be on this register even if they do not exhibit pintaloosa characteristics.
SHAPS also created a special category register, these animals are not spotted. They are mainly feathered Cobs but also include Riding Horses, Pacers & Shetland types. We are doing the transfers of ownership for these animals but because they are not spotted or spot bred we are not required to issue new passports on this register until DEFRA have resolved its future.
We can issue a passport for any spotted or spot-bred horse or pony. The application forms are available on our Society fees and forms page on this website.
If you have any questions with regards to this, then please get in touch with our registrar via out Contact Us page
What Owners Say
What British Spotted Pony Owners Say

I had never heard of the British spotted pony before I ended up with one, he is the smartest most loving pony I have ever met, everyone who meets him loves him,I wish I had had a British spotted pony when I was a kid!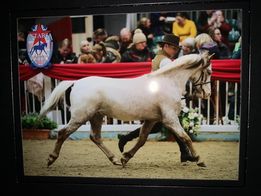 Beautiful, incredibly smart with hearts of gold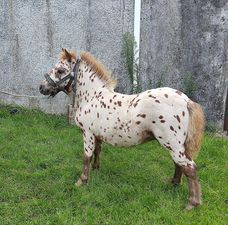 Looking for your next Spotty friend?
The Society offers free advertising to members for their Stallions at stud or ponies and youngstock for sale.
Alternatively you can visit our Welfare page where we have ponies looking for their new loving homes due to changes in current owner circumstances.
View our Welfare Ponies
View the Sales Page